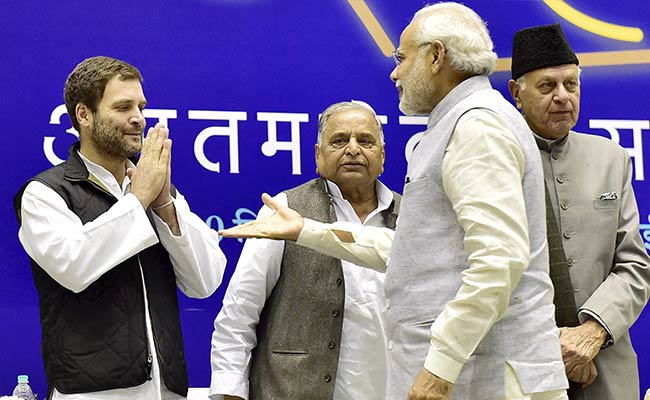 Congress President Rahul Gandhi today launched his "save the constitution" campaign
New Delhi:
Prime Minister Narendra Modi is bothered only about becoming PM again, not about rapes or atrocities on Dalits,
Rahul Gandhi
said today in a stinging broadside marking the launch of his
"save the constitution" campaign
.
"Modiji is bothered only about Modiji. PM Modi is only bothered about becoming the PM again. He isn't bothered about rapes," the Congress president said, addressing party leaders and workers at a huge indoor stadium in Delhi.
The Congress had worked for the country's prestige for 70 years but it was all undone by the BJP-led government, he said. PM Modi, he charged, had damaged India's image in the past four years.
"We will never allow the BJP and RSS to even touch our constitution. The people of India will speak their 'Mann ki Baat' in 2019."
The Congress will continue its nationwide campaign for nearly a year till April 14, 2019.

Rahul Gandhi liberally took potshots at PM Modi, using his comments.
"Modiji sees spirituality in making pakodas, and cleaning toilets. But for himself, he only sees spirituality in becoming Prime Minister," quipped the 47-year-old, cheered by party workers.
The Congress campaign comes at a time when the ruling Bharatiya Janata Party is holding "Gram Swaraj Abhiyan" across the country under which PM Modi has asked party lawmakers to spend a night in Dalit-dominated villages.
The Prime Minister's direction to party leaders came after violent protests erupted in parts of the country after a Supreme Court order allegedly diluted the Scheduled Castes and Schedules Tribes (Prevention of Atrocities) Act.